Monroe Dispensary
Weedys Monroe MI Dispensary offers premium terpene-rich weed at unbeatable prices. Get 50% OFF your first order (up to $100 saved). Enjoy this first-timer discount upon arrival.
Credit cards and cash accepted. 1118 S Telegraph Rd, Monroe, MI 48161 Monday-Saturday 9-9 Sunday 10-8 (877) 793-3397
Dispensaries With Flavor
Weedys specializes in breeding, growing, and selling terpene-rich cannabis flower, prerolls, and concentrates. Our Michigan dispensaries are for cannabis enthusiasts searching for consistently flavorful, top-shelf weed.
Shop by Category
Curbside Weed
Because coming inside is a waste of time. No lines, no stress, just consistently flavorful weed fast. Order online and pickup from one of our hassle free Michigan Dispensaries in 15 minutes or less.
Most Popular Strains
Preroll Bundles
Save big when you buy prerolls in bulk.
Save up to 40%
Bundles are available in 5, 10, and 20 packs.
Credit & Debit Cards Accepted
Our Dispensary in Monroe is Known For Really Good Weed
We breed and grow nearly all the strains for sale at our dispensary in-house at our cultivation facility in South East Michigan. We are known for our terpene-rich flowers, prerolls, and concentrates.Our passion is for breeding new strains and hunting rare and exotic terpene and cannabinoid profiles to share with you. We are genuinely passionate about the plant. This is what makes us different from the other dispensaries in Monroe.
Check out our complete strain library here.
Terpenes Over Potency
True cannabis lovers know that flavor and aroma are the most important criteria for assessing the quality of cannabis. Potency is also an essential factor; however, in our opinion, it is NOT the determining factor for making a strain selection as the consumer. Unfortunately other dispensaries in Monroe and across Michigan relentlessly push the potency over everything narrative. This is because they don't have edge and are 100% focused on profit. Weedys is focused on the terps.
Discover more about terpenes and their importance here.
Best Cannabis Prices in Monroe
Our flower is different. It's terpene packed. It's beautiful. It stinks to high heaven. It's really good. We're growing strains found nowhere else in the world. That's because we're breeders. This is what we do. We're also growers, and because we're growers, we don't buy weed from other growers. This allows us to sell top-shelf weed at bottom-shelf prices. The better you grow, the more you get. All the weed we sell at our cannabis store in Monroe is excellent. Still, we decided to break it up into three tiers anyway. "Weed," "Good Weed," and "Really Good Weed." Our criteria for determining what strains go on which tier are different from most dispensaries in Monroe. But hey, we're not in the business of being the same.
Learn more about our pricing tiers here.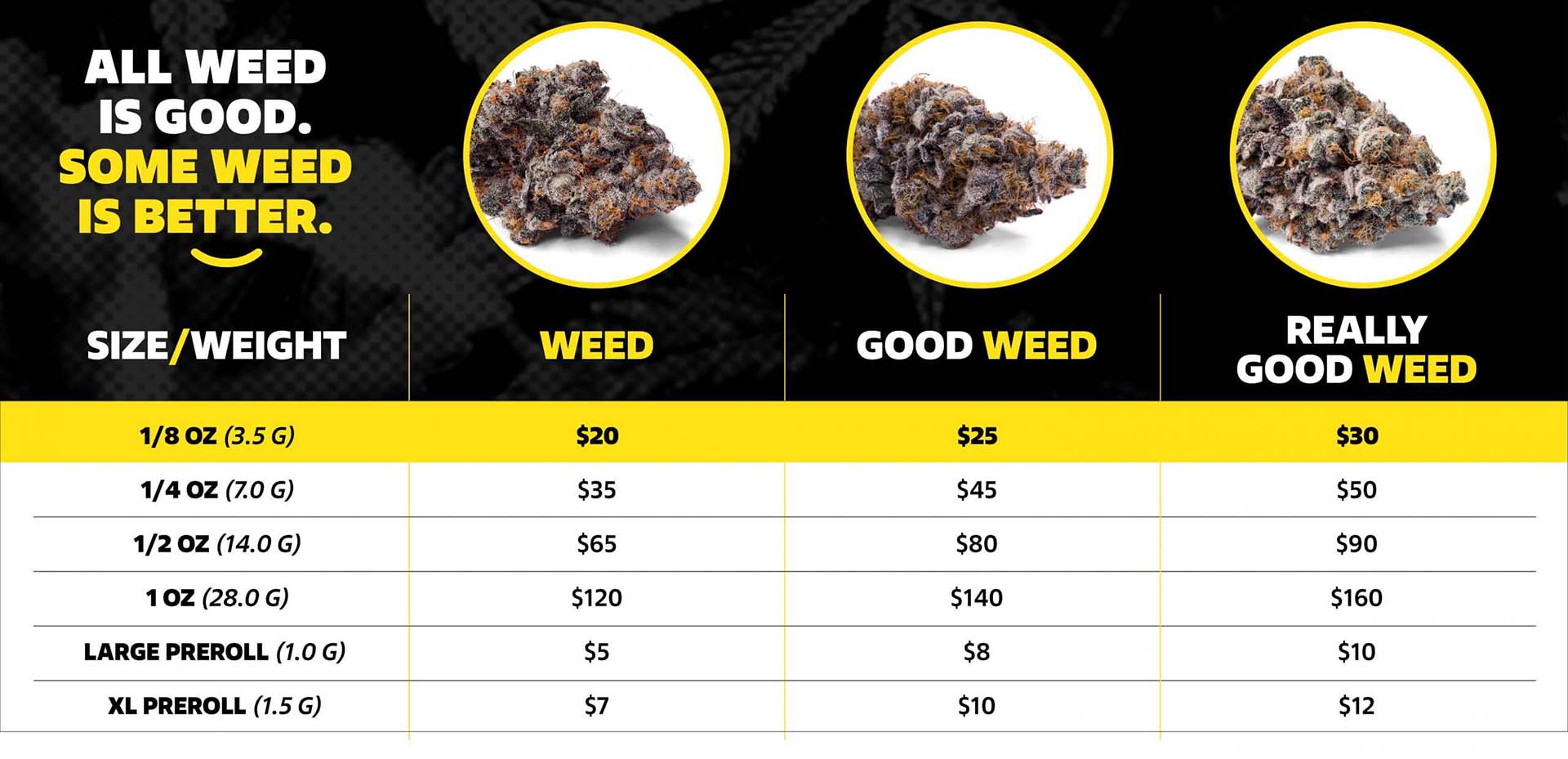 Curbside Only | Really Good Weed Fast
Half our focus is growing really good weed consistently. The other half is focused on getting it into your hands fast. We get it; going into dispensaries can be fun the first or second time. But over time, we realize that visiting dispensaries in Monroe is a chore. Ordering weed online and picking it up curbside is the most convenient way to buy cannabis.
No lines
No hassle
Order from the comfort of your home
Take your time because you're never rushed
Order online 24/7 pick-up between 9am – 9pm Mon-Sat 10am – 8pm Sun
Relax in the parking lot watching tik-tok while we run your weed out.
Expand your Knowldge
Learn more about the Cannabis you consume in our Learning Center. Here are some quick links to get you started